Chiropractor Clifton Wickiser D.C.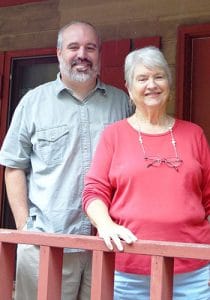 Dr. Clifton Wickiser was developing x-rays by age nine.
Dr. Clifton grew up in chiropractic. His father, Dr. Gary Wickiser kept Dr. Clifton busy helping out in the clinic from an early age.
"My most profound experience with chiropractic as a child happened when I was nine," he recalls. He was sitting in the waiting room, waiting to be seen, when the elderly man next to him shared how he had first come into the office in a wheelchair. The man had then been unable to move his legs and was told he would never walk again, but chiropractic visits over time had restored his ability to walk.
Dr. Clifton went to undergraduate school at the College of Charleston to see if there was possibly anything else he wanted to do, but there wasn't, so he enrolled in the Life University School of Chiropractic.
His dad had set the bar high, being known throughout the chiropractic profession and continually searching for more knowledge by attending five to ten professional seminars a year even into his sixties. Dr. Clifton attended as many as 20 seminars a year while in school, becoming proficient in various specialized chiropractic techniques before graduating. He actually was an instructor for the SOT club advanced classes and founder and president of the Pettibon Spinal Biomechanics club while still a student at Life.
Dr. Wickiser felt performing just spinal corrections was too easy.
There were many amazing recoveries that occurred for his patients. One example was an eighteen year old girl who had spent the last 10 years in a wheelchair. After one year of treatment, the girl was wheelchair free, had gotten a job and had gone back to school. However, there were a few who didn't respond as well as he thought they should to have corrective spinal care. And his father had several strokes. Searching for answers to his father's condition, he entered the world of chiropractic neurology and started realizing he could substantially raise the level of care provided by the clinic.
"I want to help the people no one else can help," says Dr. Wickiser, "and once they get get healthy, to help keep them that way."
Dr. Wickiser is the only Carrick-trained Board-Eligible Chiropractic Neurologist in Anderson, SC and one of the few in SC.
His challenge to you and your family:
Dr. Wickiser believes that everyone should take proactive steps for health. He doesn't want anyone to ever become a victim to poor health or ineffective treatment. For this, it involves taking care of your spine and your brain, for optimal functioning. It also includes eating well and exercise.
But his main challenge to you is to not accept any adverse condition as normal. He states emphatically "Too many people feel it's normal to be unhealthy. It's common. But it's not normal. God made us to be healthy. Keep seeking that answer to make it happen."
Monday
8:30am - 12:00pm
2:30pm - 6:00pm
---
Tuesday
8:30am - 12:00pm
2:30pm - 6:00pm
---
Wednesday
8:30am - 12:00pm
2:30pm - 6:00pm
---
Thursday
Closed
---
Friday
8:30am - 12:00pm
2:30pm - 6:00pm
---
Saturday
Closed